Recharging a lead-acid battery
The electrolyte in lead-acid batteries is a dilute solution of sulfuric acid in water. As the lead-acid cell reaches a full state of charge, some of the water in the electrolyte is broken down into hydrogen and oxygen gasses by the recharging current. These gasses escape from the vent on the top of each cell. This process is called "gassing", and accounts for the water lost from the cells.
If all the cells in a lead-acid battery are to be completely refilled and equalized, a certain amount of gassing will need to take place. For that to happen, distilled water must be added to the cells to make up for the water hydrolyzed into hydrogen and oxygen. Secondly, the potentially explosive mixture of hydrogen and oxygen being vented from the cells must be dealt with. Hydrocaps helps solve all of these problems.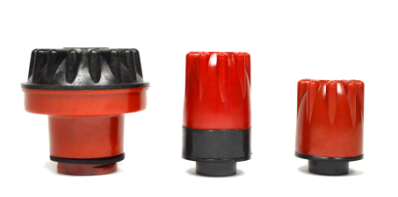 Batteries need TLC…
HYDROCAPS

…Do It Automatically
EXPLOSIVE

HY

DROGEN

GAS REDUCED
CATALYTICALLY CONSUMES HYDROGEN & OXYGEN
CORROSION VIRTUALLY ELIMINATED
ACID SPRAY IS WASHED BACK INTO THE BATTERY
BATTERY SERVICE LIFE EXTENDED
GOOD MAINTENANCE = LONGER BATTERY LIFE
SAFER BATTERY OPERATION
NO CORRODING ACID OR EXPLOSIVE GAS
ACID FUMES GREATLY REDUCED
EFFECTIVELY CONDENSES FUMES
PURE WATER RETURNED TO BATTERY
HYDROGEN & OXYGEN ARE COMBINED
Simply replace your standard vent caps with a smarter choice